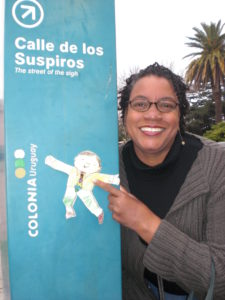 My name is Jasandra but you can call me Jay. I was born and raised in New Orleans. I identify with the words Christian, adventurer, daughter, sister, sister-in-law, Godmother, aunt, motivational speaker, friend, teacher, trainer and intrepid traveler.
Background History
I taught in the United States for fifteen years as a Speech Pathologist. Eventually, the call of the wild was so loud it could not be ignored. I earned a master's degree in Special Education and eventually moved to Japan. I taught in Japan for three years, Germany for eight years and most recently Italy, for five years. Japan was exotic and overflowing in tradition. Germany was clean, organized and predictable. I embraced the predictability. Naples, Italy was like riding on Mr. Toads Wild Ride every day for five years! I loved it all. Moving abroad was the best decision I have ever made.
In June of 2015 I became financially independent and left behind my teaching career. It was not an easy decision and I was paralyzed at times with fear and doubt. I chose to continue to explore the world for a year (update: 2 years 6 months and counting) while deciding how the next season of my life would evolve. This blog  follows my travel journey.
Random Facts About Me
I was chosen as Audience Favorite during San Miguel de Allende's Storytelling Festival 2015 in Mexico.
I binge watch TED talks on weekends occasionally. Okay, more than occasionally, a little more than I want to admit in public.
I am severely technologically challenged and have no idea how to start a blog but I am doing it anyway (Boundary Jumping 101).
I sing in the car all the time. Sometimes I think I sound pretty good so I occasionally turn the music down to see how good I sound and I am consistently shocked at how bad I sound. I sing anyway!
I love to read but rarely had time to read when working. I started book clubs to force myself to make the time to read. Now that I am free I read daily, sometimes all day long!