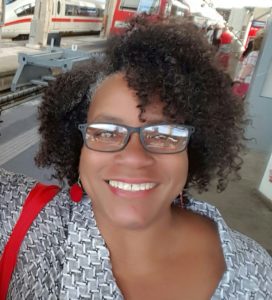 Jay is on a mission to help others become confident in public speaking. An Advanced Communicator within the Toastmasters organization Jay has presented workshops throughout communities in Germany, Italy and Argentina. Her experience and love for public speaking shines throughout her workshops and keynotes. An Audience Favorite in the 2015 San Miguel Storytellers conference Jay loves competing in speaking contests and consistently places first or second. Her end goal is to compete and become World Champion of Public Speaking. But her joy comes from helping others shed negative notions about public speaking and gain the confidence to master public speaking.
Speak Up! Mastering Public Speaking
Aside from highlighting techniques for beginning a speech, using stories to deliver your message and connecting with your audience, this workshop shares the fundamentals of public speaking, delivering a powerful message, connecting with your audience, getting your point across clearly. It also shares the secret to speaking in public without anxiety.
If you have struggled in the past or simply want to brush up on your speaking skills, this interactive workshop is just what you need. The workshop will make you want to become a better speaker and give you the tools to do it.
Ten Things You Should Know That Will Impact Your Child's Education – Workshop no longer available
Using PowerPoint Effectively in Your Presentations – Workshop currently unavailable
Keynote Speeches
"The Heart of a Volunteer"
"I Wish Someone Had Told Me"
"Follow Your Passion"
"A Step in the Right Direction"
Member Toastmasters International
Toastmasters International, Advanced Communicator (AC) Competent Leader (CL)
Sponsor and Mentor, Naples Toastmasters Club, Naples, Italy
I look forward to speaking with you about your group or organization.