Thailand Part II
Thailand Part II
Thailand Part II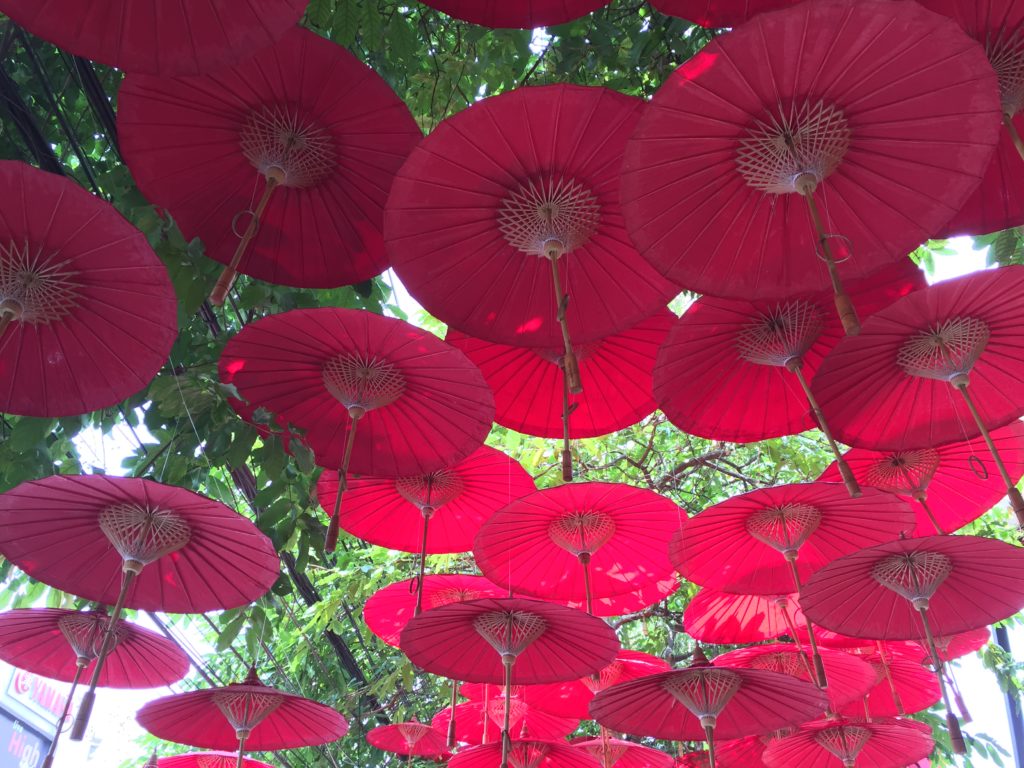 Vibrant colors abound in Thailand. I was walking one day in the heat, and pretty miserable I might add.  I happened to look up and high above my head, dangling from the trees I saw these beautiful red umbrellas. I stopped to rest under their added shade, and took a few minutes to admire how beautiful they looked. I immediately felt better (not cooler) but better.  Thailand is definitely one of the color capitols of the world.
More Temples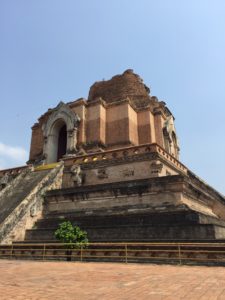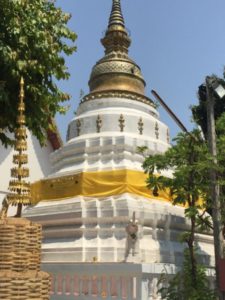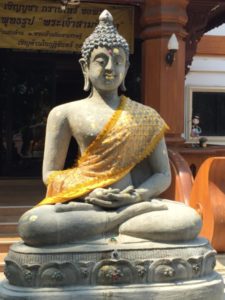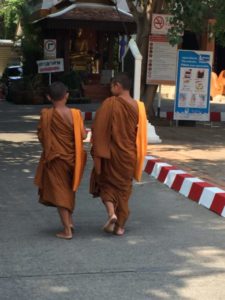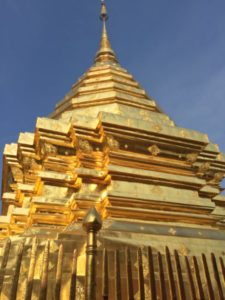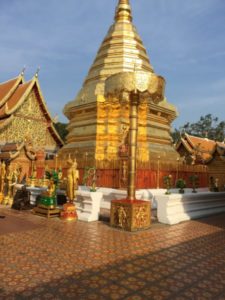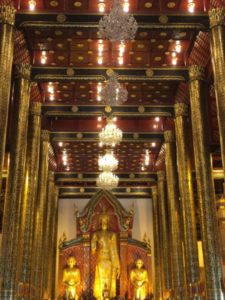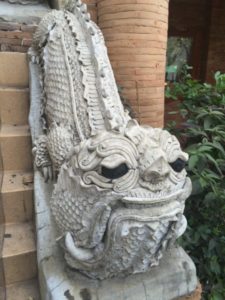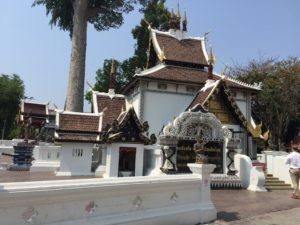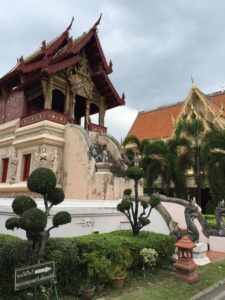 ---
The Padauang Tribe (Karen Long Neck Village) in Chiang Rai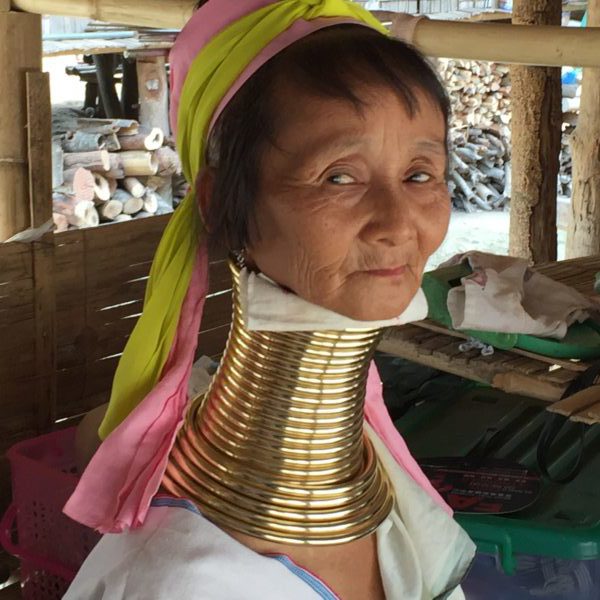 The Karen people are an ethnic group from Southeast Asia. They have their own language and culture. Most practice Buddhism and Animism (spirit worship). There is a small portion of Karen who are Christian. From what I have read there are about 140,000 Karen people in Thailand who escaped the very long civil war and and human rights abuses in Burma.
Why the long necks? The stories I have heard and read are varied. Some say it is a sign of beauty in their culture. Folklore indicates they do it to stave off tigers in their villages back home. The tradition goes back to over a thousand years but unfortunately the Kayan (correct spelling) people do not have a written history to document their wonderful culture.  Some say they do not have long necks but that the collar bones are suppressed by the rings. Now I am not a doctor but if your chin is twelve inches from your collarbone something is stretched!  It is said that the neck is not stretched but the collar bone is suppressed.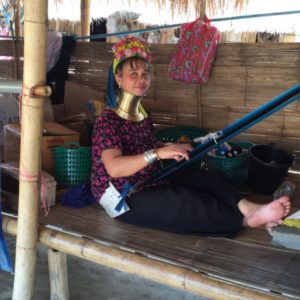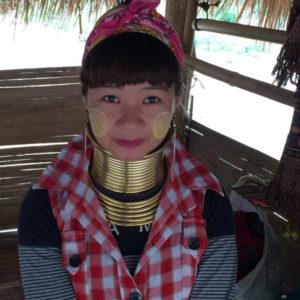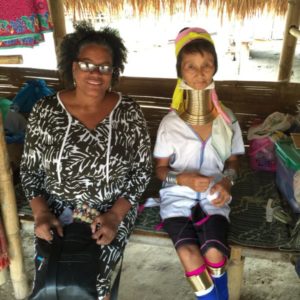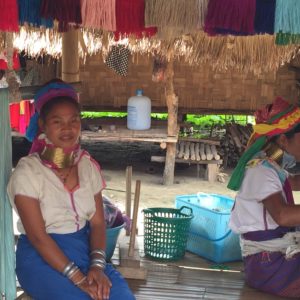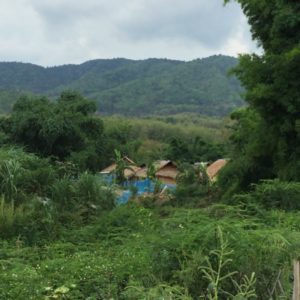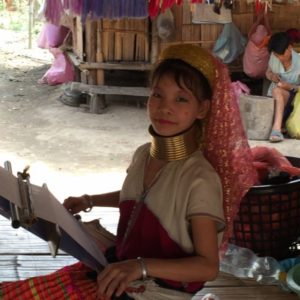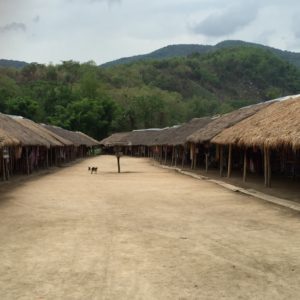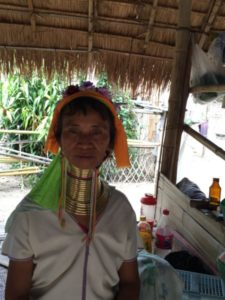 Below is a picture of Stella. She was so cute and the ultimate saleslady. I thought she deserved a little spotlight on this page. I bought more from her than planned. She was happy. She asked my name and used it throughout our conversation. "Jay where are you from?"  "Jay do you like these pencils?" "Jay do you like Thailand?" She was well trained and applied perfect sales skills.  I felt like she was very genuine. She could be a great entrepreneur one day. She appeared to have mad skills at such a young age. But that  was a bit disturbing to me. In the refugee camp the kids are only educated to the 6th grade for the most part. The Thai government does not have enough money to educate the kids up to high school. There are NGO's and other programs that teach to higher grade levels but they can't meet the needs of all children in the camps. There are probably hundreds of possible scientists, teachers, doctors, lawyers and accountants behind the gates of the refugee camps who may never reach their potential.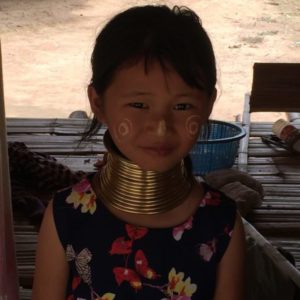 Human Tourism
The Karen people are refugees from Myanmar (Burma) as the result of an intense civil war. They have been held in refugee camps in Thailand for 30 years. The Thai government refuses to recognize them as war refugees and labels them as economic refugees, which affords them fewer options and access to fewer/no social services, health care, and education. They are not allowed to resettle or work outside of the refugee camps.The custom of wearing long rings around their necks to make their necks appear longer is certainly a curious tradition. Therefore tourist villages were created so the refugees could make money.  Based on what I have read and seen in videos, there are "owners" of the villages and they do not "allow" the women to apply for temporary IDs because they would be able to apply for jobs outside of the refugee villages; which means the owners would lose their source of income. Some of the younger women are moving away from the tradition of long-neck rings. I have also read since it is a source of income for the "owners" of the villages some women are being forced to continue the tradition in order to make money. Basically, in my opinion, they are being held captive.Thirty years is a long time to be confined in one place with limited movement and limited freedom. People born 30 years ago in the camps only know life in the camps. There exists in the camps talented smart young adults with limited education, therefore, limited futures.
I felt very uncomfortable taking pictures. The neck rings are exotic and different. The cultural richness of the experience is something that one would want to share and remember in pictures. But is it worth treating people like they are in a zoo? The Thai people loved my hair when it was twisted. I have even seen people trying to sneak and take pictures of my hair; weird as hell. When I made that connection at the Karen village I stopped taking pictures.The visit to the Karen camp was different than my visit with the indigenous Embera people in Panama. The Embera people are not held captive and are in control of the business of tourism in their villages. My discomfort came from knowing that the Karen people are basically being held captive.
I have also read that violence against the women in the camps has increased. The women have very little recourse as there are no real laws in the refugee camps and quite often it is said the Thai guards and police who are said to be responsible for assault on the women. In a video one of the women said the "owner" of the village would not "allow" her to apply for a temporary ID.The people interviewed in a video I watched online admitted that life in Thailand was better than in Burma but also longed for a temporary permit that would allow them to make money outside of the camps and at minimum, be able to leave the camps. Until they are freed from the confines of the refugee camps they will never know a better life. I know it goes deeper than this and many pieces of this puzzle are missing. There are those who say the income from the tourists support these communities and the Karen women want to have tourists because it is the only way to make money. The income from tourists support the refugees and allow them to raise their families without depending on outside sources.
Oh the questions I have seem endless. If tourism were to stop, would these women and their families go hungry? They have no other source of income and can't work outside of the village.  Would ending tourism to the villages  be devastating to the community?  Who are the people who are getting the entry fees for the village? Is it the government? Who are the 'owners' of the villages? There are at least 40,000 tourists per year visiting the villages at $8.00 to $18.00 per tourist. Are the women making money from this income or are they only making money from the items they are selling? Are they forced to stay there? Are the young children forced to continue to wear the neck rings to keep money coming into the family; or are they simply continuing a cultural tradition? Are these women and their families modern day slaves?  As long as these questions go unanswered I can truly say without a doubt, knowing what I know, I would not go back. I would not recommend any of the tours. I do not have the answers but I certainly would not want to be part of the problem.
A pretty good short video I found on youtube is titled "Long Neck Karen Tribe in Northern Thailand". Check it out if you get a chance. There are other tourist videos on Youtube but this video is a documentary so look for the specific name. Interesting.
---
An Ode to a Cup of Coffee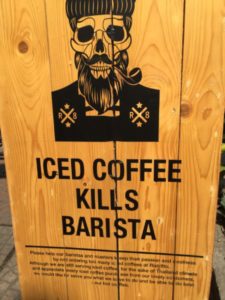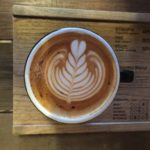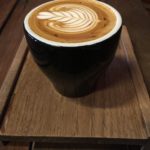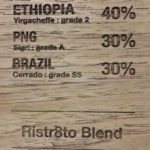 If Maya Angelou were alive today I would commission her to write an ode to the cup of coffee I had at  Ristr8o Café in Chiang Mai Thailand. This coffee is officially the Best Coffee in the World.  Somewhere on this website I mentioned that part of my mission on this trip is to find the best cup of coffee in the world. The search is over. The people at Ristr8to Cafe know their coffee. I was thinking the sign pictured above was just a gimmick. But they are serious about coffee. You probably can't read what is written at the bottom of the sign, it's rewritten here:
"Please help our baristas and roasters keep their passion and coolness by not ordering too many iced coffees at Ristr8to. Although we are still serving iced coffee for the sake of Thailand climate and appreciate every iced coffee purchase from our lovely customers, we would like to serve you what we love to do and be able to do best; our hot coffee."
Say whaaa? I read this and thought I should try the coffee especially since Mr. Chay the singing taxi driver strongly recommended it. I was not disappointed. The first sip was like liquid gold. I had to take a moment after the first sip. I had to sit back and comprehend what I had just tasted. It was the most perfect balance of milk and coffee. The milk's foam was velvety smooth and not an air bubble to be found. New Orleans and Paris move down a space to make way for Ristr8to cafe as the number one place in the world for a good cup of coffee.
---
Baan Dan Museum (Black House) Chiang Rai
The Baan Dam Museum or as it is known locally, the Black House was the creation of the Thai artist Thawan Duchanee. It is eerie, strange, unusual and beautiful at the same time. The outlandish modern designs have been controversial in the Thai community because this odd place is said to depict tenets of Buddhism. However, it is not a temple it is a museum. There are up to 40 buildings in the complex.
Toastmasters International


I always enjoy visits to Toastmasters Clubs. Pictured is the Chiang Mai Toastmasters Club. I had the opportunity to visit twice and enjoy a wonderful workshop on memory strategies. Oh boy did I need that!
Doi Inthanon National Park  King and Queen Temples
Doi Inthanon is the highest mountain top in Thailand and home of the two stupas (Buddhist shrines) or temples.These temples were built to honor the 60th birthday anniversary of King Bhumibol Adulyadej in 1987, and the 60th birthday anniversary of Queen Sirikit in 1992.

Look at my mad camera skills. HA! HA! HA! This is my panoramic shot. The stupas and the surrounding grounds are gorgeous. Glad I took the time to see this.The day went from overcast to beautiful blue skies it was beautiful to watch.