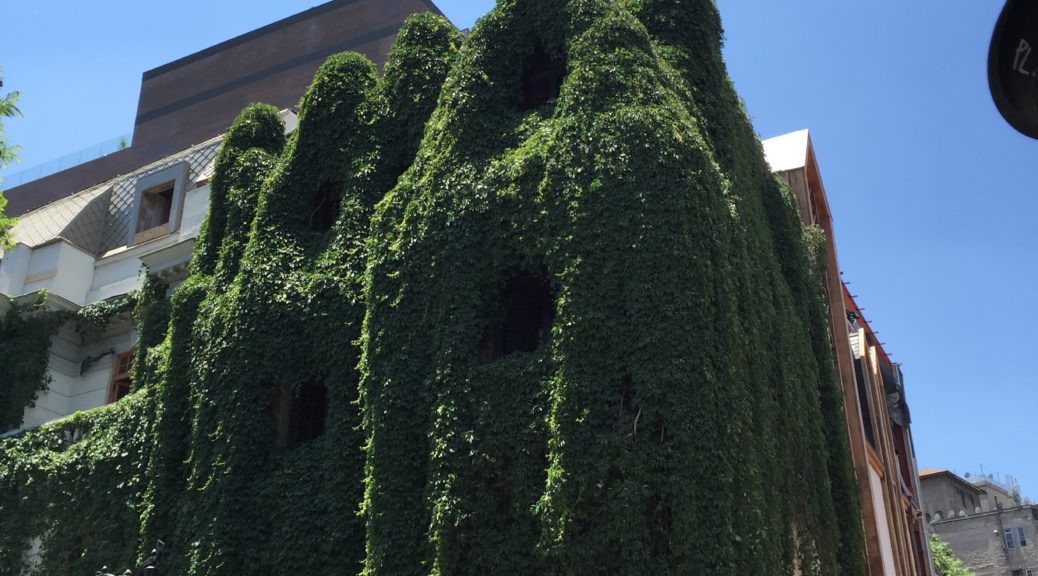 Chile – Part II
Chile – Part II
Living Outside the Boundaries – Chile part II


Graffitti Art of
Valparaiso
Valparaiso and Via del Mar are beautiful seaside towns about two hours from Santiago, Chile. Via del Mar is a resort town. It's cleaner, quieter and has better beaches than Valparaiso. However, between the two I preferred Valparaiso. It's a Naples thing I suppose, another diamond in the rough. It is also Pablo Neruda's hometown. Surprise! It is the artistic capital of Chile. Valparaiso historic quarter is a UNESCO heritage site. It has 45 hills with elevators and funiculars scattered throughout the city. After ascending one of the hills by bus and walking down I understood the need for the funiculars. If downhill was bad, imagine walking up the steep hills!
Graffiti Walk: A walk just about anywhere in the city will provide you with great graffiti art for your viewing pleasure, however, on the hill up to Cerro Concepcion there are murals everywhere. It's an outdoor art gallery for sure. Graffitti art is very popular in Valpo, especially in this World Heritage neighborhood. Graffitti is illegal in the rest of the country but not in Valparaiso. The Conception neighborhood is filled with vibrant color and there is an explosion of creativity throughout the neighborhood. The pictures above and below are just a few of my favorite murals.

Pickpocketed! Oh no!
Pickpocketed! Oh no!
My pickpocket-free record was shattered. Somewhere between 8:50 and 9:00 a.m., on a metro ride in Santiago, Chile I was pick-pocketed. I am always 100% pickpocket proof. My money is never in my purse or backpack and to get to it I usually have to take a quick dip into the ladies room.  When traveling, I do a pickpocket check before I leave my hotel room or apartment.
This incident happened due to forgetfulness or senility. In two outside zippers I usually have an ink pen, a small writing pad, packs of Kleenex and my reading glasses. On the early morning train in Santiago people are packed together like sardines. It wasn't until I was on a bus to Valparaiso that I realized that not only are the tissues gone but I had ONE HUNDRED TWENTY DOLLARS in the outside zipper. I completely forgot that I stashed it there a while back and never took it out. I never check those pockets (well I do now).
My personal space is wider than most. Touch is one of the tactics of pickpockets by the way. There was this girl who was standing so close her big purse was pushed into my purse. With my hand on the main zipper I never gave it a thought. It was a crowded train. I was focused on getting off the train to reclaim my personal space.
When it actually sunk in, I was wishing life imprisonment for her. Oh it got ugly in my head. I was heading down a deep dark rabbit hole and the only way I know to get out is to pray and give thanks.  That is exactly what I did. It is impossible to be in a state of gratefulness and be angry at the same time. Right there on a bus headed to Valparaiso, Chile I prayed. Lord thank you for this wonderful journey.  Thank you for the clouds covering the sun right now; because of the clouds the day is cool. Thank you Lord that the only thing hurt today was my ego. Lord please bless and help those who are hungry and homeless.  Finally I ended my prayer by asking God to please, please, please let every penny of every dollar stolen from me go to feed someone who is truly hungry or whose rent needs to be paid.
In a state of gratefulness I moved on with my day and enjoyed Valparaiso. Before I begin to sound like a saint let me assure you I am not.  Every time I had to pull money out of my wallet I thought of that little heifer spending my money. I had to go into a state of gratefulness at least three times that day. By the end of the day I was grateful to be grateful. By morning my special little pickpocket was one hundred percent forgiven and I hadn't thought of her until I decided to tell you guys what happened. I will be writing some tips for being pickpocket proof. Oh the irony!


Patagonia
My Don King hair in the picture above was courtesy of the strong wind gusts in Torres del Paine National Park. I viewed sea-foam green, sky blue, navy blue and powder blue lakes.The color scheme in Patagonia was breath-taking.  I will not attempt to write about Patagonia because I know I can not do it justice. So here is what comes to mind when I think of Patagonia. Wild, blue, green, lakes, barren, forests, wildlife, granite, vast, clear, hiking, meditative, ocean,  beautiful, mountains, deer, pumas, fjord, ecological, panorama, glaciers, awe, serene, gusts, windy, magical, and finally, return. The rest I will leave to the pictures.


After Office Toastmasters Club Santiago Chile
Winners of the Evening


Mining for Words Toastmasters Club
Santiago, Chile
Basic Trip Information
Transportation: Getting There
I flew on Copa Airlines from Panama to Santiago
Lodging
I set up camp in an Airbnb one bedroom apartment with full kitchen, living room minus the kick-butt view I had in Panama. The view of the mountains pales in the light of the great waterfront view in Panama. There was a washer and dryer and a full kitchen. I stayed at the Doubletree by Hilton in Las Condes for two days while I made arrangements to preview the apartment.
Metro
Metro and buses require a Bip! Card and can be purchased at any metro station for about 1400 pesos ($2.00 USD) for the card and then you can add as much travel credit as needed.  Each trip on the metro costs about 700 pesos ($1.00 USD) and increases in price based on time of day.
The metro is safe but a breeding ground for pickpockets so be careful.
Taxis
I have no idea how much taxis cost. The one time I did get a taxi I didn't pay for it because the driver would not take my money. The ride was free. Imagine that!!!
Days in Country  30 days
My Overall Impression
Although I enjoyed the city, I don't see Santiago as a place I would like to relocate. The smog and air pollution wreaked havoc on my breathing and I actually had to use my inhaler. The pollution alone knocked it off of the list of possibilities. There are a lot of things I want to do in Chile that involve going north and further south but not back to Santiago. I really fell in love with Patagonia. If it wasn't so darned cold and far I would visit there more often.
Would I return to Chile? Yes, in a heartbeat. I am already planning a return to Patagonia.