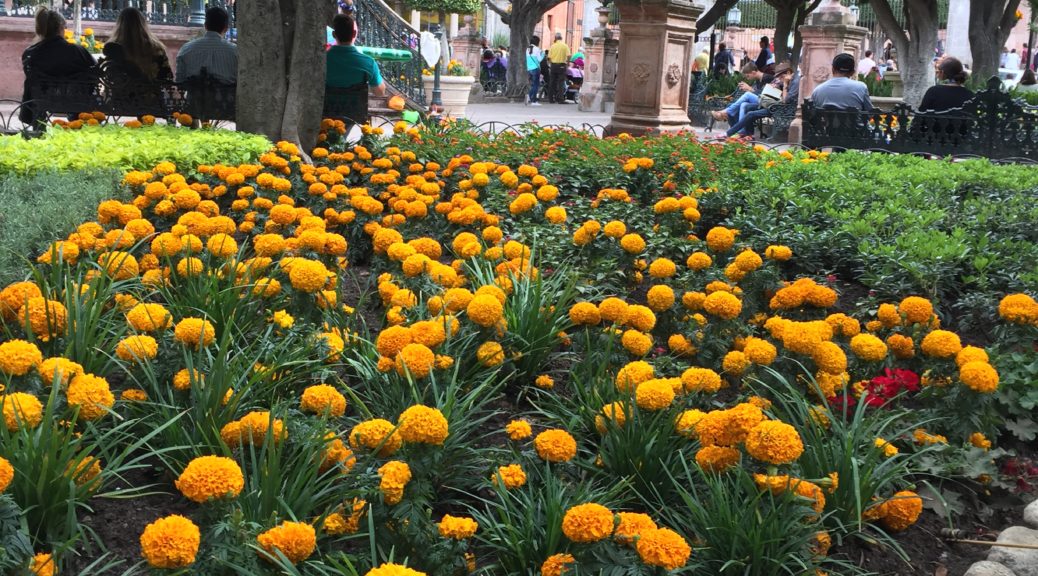 San Miguel de Allende, Mexico


San Miguel de Allende
Beautiful San Miguel de Allende, Mexico won my heart the minute I arrived. There are so many really cool artistic people in San Miguel. I was so happy to meet the wonderful ladies pictured below. Some were relocating to Mexico and others, like me, were just passing through. What a blessing to meet intelligent, energetic and fun people on the road.  Among us there was a school psychologist and principal, a teacher, an engineer, a massage therapist, a non-profit fund raiser. Not pictured is a swim coach and  retired teacher. We got the chance to get to know each other, hang out and have a nice time. I've never experienced a place with so many creative people. It is definitely an artist's haven.  I know this may sound crazy but you can almost feel the creative energy as you walk the streets. I will go back to San Miguel for sure.


My Mexico Tribe
Lucky enough to be in Mexico for the Day of the Dead
Day of the Dead
Day of the Dead was a surprise. What a treat to be in Mexico for this celebration. Even though it is celebrated near the U.S. Halloween festivities, it is not associated with Halloween at all. The Day of the Dead is a celebration of the dead. It's a time when families gather to remember and pray for family and friends who have died. The painted faces are a way to make death seem less scary. I went to the cemetary and was expecting to see beautiful flowers. What I found was amazing. Of course flowers were everywhere. But to my delight there were also families having picnics and various mariachi bands playing all sorts of music. In the main square there were painted faces and elaborate flower monuments to family members long gone. It is a huge celebration in Mexico. It was really amazing to view.


Just a sample of the beautiful artwork on many faces
Actively Involved in the Community
There was no lack of things to do. As a matter of fact I held back and was extremely cautious about giving my time to any particular organization or cause. This is supposed to be my year of relaxing and exploring. I want to volunteer in each country, however, I don't want to get too involved, no matter how tempting. The expats in San Miguel are super friendly and helpful. Here is a tiny sample of what was available in San Miguel: Art and Photography exhibits, cooking classes, photography workshops, a variety of workshops, documentary viewings, concerts, walking tours, social gatherings for newcomers, poetry shares (meet up and read your favorite poem), weekly house and garden tours (the houses are gorgeous), more than 100  NGOs with various opportunities to volunteer, live music nightly at many venues, a scrabble group, bingo, language practice meet-ups in English and Spanish, organic fairs, artisan's exhibits, dance classes, dance meetups, live theater, tango, lectures, meditation groups, yoga, tai-chi, Spanish classes (I need this), art classes, classes at the Institute of Life-Long Learning……..oh my goodness I could go on forever but I will stop here. Everything I mentioned was presented in English….and most activities were free or only a few dollars!
Volunteer Opportunities
I chose three organizations with causes that were close to my heart; poverty, children, and the elderly.
So Others May Eat – I volunteered at the Paroquia  every Wednesday at 1:15 to feed the elderly of the community. They're so cute and grateful. They were seated by age. My favorite table was the 80-90 year olds.
St. Paul's Church – to stuff clean plastic bags into beautiful mattresses. The organization makes mattresses for children living in poverty. Many children sleep on dirt floors in some of the rural towns. I believe that ALL children should have a soft spot to sleep. The mattresses were very nice.
Book Mobile – a local after school program that teaches English also started a book mobile to enable them to go into rural schools. I really liked this concept. Many kids don't have books to read at home so this allowed them to bring books home to read. I volunteered to catalog the books.

Doors of San Miguel

                                                                    The Animals of San Miguel
It is impossible for my sister to see a cute dog and not stop to play. This is her with Rudy the dog in the Jardin in front of the paroquia in San Miguel.  I was walking through town and saw some guys on horses headed towards the center. I would have followed but they were headed up hill. I wasn't that curious.

GETTING TO SAN MIGUEL
Getting to San Miguel was easy but time consuming. From Houston, I had a four hour layover in Monterrey and then my final destination in Leon. Arriving at night I had no idea how beautiful my surroundings were. My hotel opened into a beautiful courtyard and was bursting with color spurts from trees, flowers, ornaments as well as the dishes on the tables. I don't know why, but I didn't take pictures.
Travel tip: I never advise arriving anywhere at night but in some countries it can't be avoided. Also the cheaper flights usually leave very early in the morning or land late at night. You know I went with cheap. The flight cost $150.00 US dollars one way on a new airline called InterJet https://www.interjet.com/. Sometimes they have round trip from Houston for $250.00 and New York to Mexico City $350.00. I think that is pretty cheap.  All the planes were fairly new.  I had a shared shuttle arranged to pick me up in Leon. When I came out of baggage claim there was someone standing there with my name and several other names on a sign. I felt very safe. For any of you planning to visit San Miguel maybe next summer, the shuttle is called BajioGo: http://bajiogo.com/shuttle/  You can pay in US dollars when you arrive.
"Let go of the thinking you have to know how to make it happen; we learn the way on the way." Anonymous